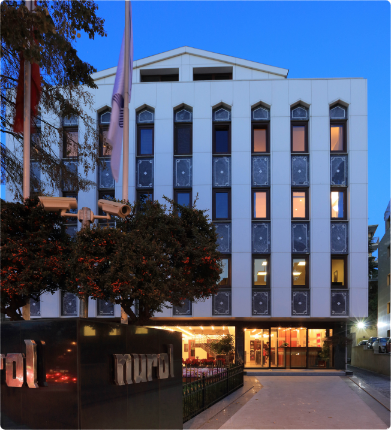 ÇARMIKLI family, who is originally from Artvin province and has a history of business for almost a hundred years in total, has intensified its business activities in areas of construction and contracting works over time. The businesses established by Eyüp Sabri ÇARMIKLI, father of the family, as merchant tailor, haberdashery and contractor, has been maintained and developed by his children after he passed away.
NUROL Company, of which name is a combination of the first and last syllables of the names of Nurettin and Erol brothers respectively was incorporated on the date of 17 January 1966 by and between these two brothers with equal shares. Oğuz ÇARMIKLI, who was a student at that time when the company was incorporated, took part in the company as a shareholder in 1981 by taking over equal shares from his big brothers. As a result, the company became a family company owned by three brothers with equal shares. Since then, the company has continued its activities by protecting this structure.
With its history presently exceeding half a century, and its successful activities in the areas of construction, defense industry, energy, mining, tourism, finance and various service sectors not only in Turkey both also in various countries of the world, NUROL Group of Companies, which comprises of more than 35 companies and many affiliations, has become one of the distinctive business groups of the country as of today.
Activities of NUROL Group of Companies abroad have spread out a wide geography as of today, and have taken place within the borders of many countries including Morocco, Algeria, Tunisia, Congo, Czechia, Poland, Romania, Libya, Georgia, Saudi Arabia, Iraq, United Arab Emirates, Qatar, Turkmenistan, Kazakhstan, Uzbekistan, Afghanistan, Russia, Philippines and Malesia.  These activities mainly take place in defense and Tourism industries.
With its long-established corporate culture, experienced human resource and equipment pool,   NUROL Construction Company, which has made substantial contributions to Turkish construction and contracting industries, and which have brilliant references in its field of activity, has furnished Turkey with modern facilities by successfully completing various important infrastructure and transportation projects such as dam, tunnel, bridge and highway construction, and various other projects including construction of industrial facilities, business and trade centers, hotels, luxury residences, various buildings and satellite town projects.
Ilısu Dam and HPP project, which will be the second in Turkey in terms of dam volume and the fourths in terms of installed power, is currently under construction by an international consortium being led by NUROL Construction Company. The Marmaray Bosporus Immersed Tube Tunnel, which was installed 60m under the bottom of the sea, has been constructed by a Turkish- Japanese Joint Venture including NUROL Construction Company as a JV partner. And, Gebze- Orhangazi- İzmir Project, which is the biggest BOT project in Turkey, is being constructed by a joint venture, of which NUROL Construction Company was a part of. These are only three samples of mega projects which NUROL Construction Company is involved in.
NUROL Makina ve Sanayi A.Ş. is active in manufacturing tactical wheeled armored vehicles and special purpose platforms for both domestic and foreign users. NUROL Machinery, which designs and manufactures special vehicles in order for meeting especially requirements of security forces, has been continuously developing its design and engineering capacity, and presenting new designs and technologies for our defense industry.
FNSS, which is proud of being the first privately owned defense industry establishment in Turkey, has been manufacturing primarily armored combat vehicles, and then various kinds of vehicles and weapon systems in partnership with BAE Systems. In addition to serving to Turkish Armed Forces, FNNS has already achieved to sign the biggest defense system export agreement and created an export potential over two and half billion dollars so that it has become one of the well-known defense industry companies in the world.
NUROL Technology Industry and Mining Trade A.Ş. has been active in the field of designing and producing of "high tech materials", which are considered as materials of the 21st century, since 2008, in its fully-automated modern production facilities. High tech capabilities are used in NUROL technology facilities, which have been furnished with necessary equipment required for production based on nanotechnology, in accordance with features of products being produced. Hybrid armor systems, which are specially designed and manufactured with the purpose of meeting various armor requirements of our defense industry and the sector in general, and increasing local content ratio, are presented to the service of security forces both in the country and abroad.
With its powerful structure being located at İstanbul and Ankara, NUROL Investment Bank A.Ş., which was established in 1999, has been presenting investment opportunities to the investors.  And, NUROL Insurance Company has been serving in all branches of insurance industry.
NUROL Real Estate Investment Company has a special place, with its sizable investment expenditures, among other firms of the group being active in construction and contracting industries, is currently being involved in various in residence building projects in İstanbul (NUROL Park, NUROL Tower, NUROL Life), and has been transferring its experiences, into the industry, in the fields of land development, project design, construction and marketing.
TÜMAD Mining Company serving in the field of mining has been targeting sustainable mining operations with high economic return, and showing respect to social values, principle of sustainability, international mining criteria, environmental protection, and improving confidence between project stakeholders. Within this framework, feasibility studies of Çanakkale- Lapseki and Balıkesir- İvrindi gold and silver projects have already been completed and physical investment stage has been initiated.
As for tourism, NUROL is the owner of Sheraton Ankara Hotel with a congress, meeting and exhibition hall, which is 4.800 m2 in total, and Lugal, a Luxury Collection Hotel Ankara serving to its upper class guests. In these two hotels, NUROL's service mentality is based on service quality beyond 5 star, customer satisfaction, and high technology and continuous replenishment in accordance with changing customer demands.
Recently, Sheraton Batum Hotel has been taken part in the group as well.
Bosfor Tourism, which is another member of the group being active in tourism sector and is owner of "A Group Travel Agency" certificate, immediately meets requirements of it clients in the areas of provision of domestic and international flight tickets, hotel bookings, and transfer services between airports and hotels and guidance services, and VIP welcome and hospitality, transportation, accommodation and guidance services especially for foreign guests.
NUROL Group of Companies, of which basic principle is to provide high quality services in all areas being involved in, has also owner of following units.
NUROL Operation and Real Estate having operations in Ankara and İstanbul,
Botim successfully operating Bodrum Oasis Shopping, Culture and Entertainment Center,
NUROL Aviaiton providing VIP air taxi services both within the country and abroad
"Enova Energy", which has been established, in parallel to major goal of the group, to take an effective role in meeting increasing energy demand of the country and to develop hydroelectricity power projects, has already initiated commercial power generation at Oşkan and Berkman power plants, which take place within the Ceyhan HEPP Project. NUROL Göksu having activity within the same sector has taken over operation rights of Göksu Hydroelectric Power Plant for 49 years. As a renewable energy based power plant, Göksu HPP project, with 65 million kWh power generation capacity per annum, has been making contribution to decrease of CO2 emission by 39.000 tons per year.
Gulf countries have a special importance in activities of NUROL Group of Companies.
Within the scope of ongoing projects in United Arab Emirates, total areas of residences having been built by our group within the framework of Dubai satellite town projects, under the leadership of prominent investors of the region, has already exceeded 500.000 m2. And, urban infrastructure and steel construction projects have already been added to the references of the group.
On the other hand, sea bridge passages and canals, and various infrastructure projects including bridges and tunnels, and luxury hotel and residence construction projects are among our projects that have been carried out in Dubai.
Our works at North Africa has been recently expanded in a way to cover Morocco as well. In this scope, various infrastructure projects such as dam, bridge, highway construction projects, and public buildings projects are currently underway.
Another country, where NUROL companies are active, is Georgia. In Georgia, Sheraton Batum Hotel, which is the first 5 star hotel of Batum, and Internal Affairs Ministry building at Tiflis have been successfully put into service.
As a world class company, NUROL's total volume of business including those both within the country and abroad has currently reached the level of 30 billion dollars.
NUROL Group of Companies is a world class organization placing importance on ethical values, human beings and environment in addition to making contribution to development of the country. And, the group keeps progressing in the direction of sustainable success. In this contend, the group is proud of being open to contemporary developments while preserving its loyalty to the traditions as always it does.
While preserving its reputation as quality conscious and dependable company and without neglecting its social responsibilities, NUROL is determined to expand its activities and services, by establishing new partnerships and representative offices both in the country and abroad, and to keep exhibiting its high performance at national and international markets, and to continue providing guidance for the future under contemporary management concept.